Tiffany Chin's

QuickTime Collection
---
See Tiffany's Triple Axel!
Below is "new" old footage dug out from Mr. Chin's videotape drawer! They show Tiffany landing two triple axels during a practice session in the early 80's. There also is footage of Tiffany Chin at ESPN's Legends of Figure Skating competition held October 10-12, 1995 at Memorial Arena in Huntington, West Virginia.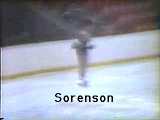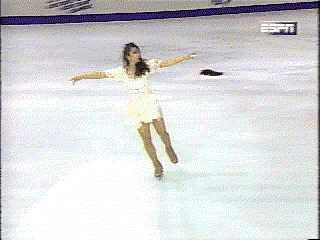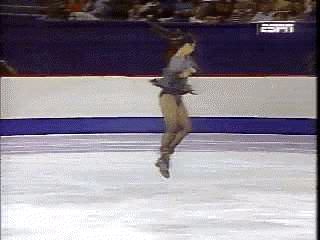 The frames shown above are half-size, which means that the movies are twice as big. Click on a frame to download the movie.

The first movie is a triple axel. Apologies for the poor quality of the video, but this is a very old tape! If you have trouble seeing the rotation, run the video one frame at a time using the left/right arrow keys

I don't know this for sure, but these may be some of the earliest triple axels by a woman ever caught on film. We can't fix the date for sure, but it's prior to the 1984 Olympics, and judging by the hair, Tiffany is somewhere near 14 or 15 years old.

The second movie (6 seconds, 1.4 MB) shows a double axel from Tiffany's second number at Legends, as she skated to music by Giacomo Puccini. The third movie (5 seconds, 1.2 MB) shows a double axel from Tiffany's third number at Legends, as she skated to Stay, by Shakespear's Sister. The programs were choreographed by Jamie Isley, and the outfits were custom tailored by Marsha Johnson. Video footage copyright ESPN, and used without permission.
Viewing tips:
If you don't have QuickTime, get it here. It's available for the Mac and the PC.
If you can't view the Sorenson version of the triple axel, you may need to upgrade to QuickTime 3. or get a faster computer.
Set your monitor for at least thousands of colors (16 bit). If that makes no sense to you, click here.
If playback is choppy or slow, try one or more of the following:

Play it again a few times. If you're machine is using virtual RAM, this should force your computer to load more of the movie into physical (real) RAM instead of keeping it on the disk.
Close all other applications to free up more RAM.
Disable virtual RAM on your machine.
Increase the disk cache on your machine.
Increase the memory footprint for the application you're using to play the movie.
Find out how to support Tiffany!
---

Back to Tiffany's Home Page
This page has been viewed
since 2/11/99.
Copyright 1999, all rights reserved. Feel free to link, but please provide proper attribution. If you have comments, questions, or (more importantly) photos, please email me @ webmaster@kan.org (Navigator users) or webmaster@kan.org (everyone else)
Last updated: 2/11/99
---
p.s. Use Netscape, or be viciously mocked, taunted and ridiculed.