Tiffany Chin's
Photo Gallery
---
For best viewing, set your monitor to Thousands of Colors. If you're not sure what that means, click here.

A new headshot, taken by George Carranza, who also did Tiffany's wedding photos. (Yes, yes, they're coming soon. I have a day job, too!):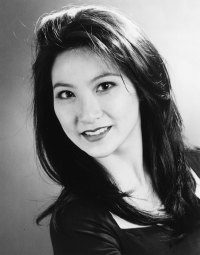 Fairly recent shots of Tiffany, from the Ladies Professional Championships, Auburn Hills, Michigan, 1996. Click on the image to see the full sized picture.
&copy Photo by J. Barry Mittan
The preceding photos are courtesy of J. Barry Mittan.
---
Older photos
| | |
| --- | --- |
| | |
| Tiffany at age 16 | Tiffany after winning the ???? |
| | |
| Success at a young age. Tiffany represented the San Diego Figure Skating Club during her formative years. | What a cutie! |
---

Back to Tiffany's Home Page
This page is maintained by her biggest fan, Steven Kan. Copyright 1997, all rights reserved. Feel free to link, but please provide proper attribution. If you have comments, questions, or (more importantly) photos, please visit my web page or e-mail me at steven@kan.org.
Last updated: 1/12/98
---
p.s. Use Netscape, or be viciously mocked, taunted and ridiculed.